"

Sam

, I have to stay clean!"
Requires Clean-up.
This article needs necessary corrections.
Please improve this article if you can!
"Well, worst case scenario? We get returned to the wild and eat dirt for the next 40 years!"
— Washington to Sam
Washington the Fox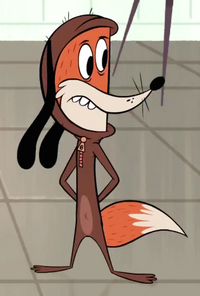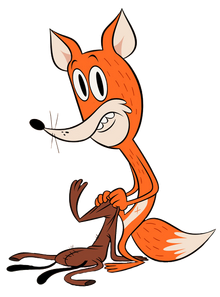 Character Information
Washington is one of the main characters of Zip Zip, voiced by David Coburn in the English dub and Gauthier Battoue in French.
In the title sequence, Washington is shown to be the leader of the group and claims to have conceived the plan to disguise the animals as house pets and live with The Livingstones in their San Francisco home.
Biography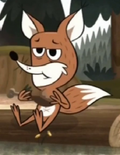 Not much of Washington is known before he was adopted by the Livingstones yet.
He fed a silver fox back in the wild. (Dog Years)



Personality
"Please, I'm a total professional."
— Washington to Victoria
Being a red fox, he is sly and sneaky but in disguise, he acts like a dog. Being a wild animal, Washington's fox instincts sometimes show (
Undercover Bother
,
No Good Dig Goes Unpunished
).
Physical Appearance
Washington is a red fox with orange fur and cream fur for detail. He has solid black eyes, black nose and whiskers.
Skills
Being a red fox, Washington can do things a dog cannot do.
Relationships
"You're my best friend"
— Washington to Sam
Sam is Washington's best friend. Sam often agrees to come along with Washington and is willing to help out when he is in trouble.
"Eugenie, go over there!"
— Washington to Eugenie
Not much interaction of both Washington and Eugenie is shown in the episodes. The only things that Washington does to Eugenie is to request something to be done.
"I'd say 'look what the cat dragged in', but I wouldn't touch you with Sam's claws."
— Victoria to Washington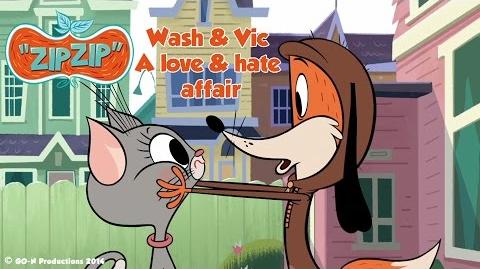 Washington has a love/hate relationship with Victoria. Her general dislike for Washington might involve his adoption by her respective owners, The Livingstones, which possibly invokes jealousy. In "Night of the Werefox", Victoria likes to play tricks on Washington, but in other cases, she is willing to help or guide him (as shown in "Foxy Lady") in a time of need.
Washington (along with Sam, Eugenie, and Suzie) was adopted by the Livingstones and lives with them in San Francisco. In the presence of Mr. and Mrs. "L", Washington tries to acts as dog, even though his amateur experience nearly blows his cover at times.
Trivia
Ludo's Description
Original
French

Le cerveau


Son autorité naturelle fait de lui le chef de l'opération « Zip Zip ». Après tout, n'est-ce pas lui qui a eu l'idée géniale de se déguiser en animal domestique pour quitter la forêt ? Très enthousiaste, notre toutou imposteur déborde de ressources pour profiter au mieux de l'existence tranquille d'une vie de maison à laquelle il a pris goût chez les Livingstone. Il n'a quand même pas risqué tout ça pour finir dans une niche…surtout s'il peut se blottir sur la couette chaude.

Translated
English

The Brains


His natural authority had made ​​him the head of the operation Zip Zip. After all, is he not the one who had the brilliant idea of dressing up as pets to leave the forest? Very enthusiastic, our dog impostor tries his best to make the most of a quiet suburban life he had a liking in the Livingstones. He still did not risk it all to end in a niche... especially if he can snuggle on the warm duvet.
Gallery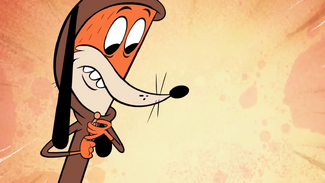 The image gallery for Washington may be viewed here.
Memorable Quotes
Then, it's back to the wild for us! No warmth, no shelter... no cable! (Bye-Bye Bathtime)
Community content is available under
CC-BY-SA
unless otherwise noted.