"How come I lived here the longest and I'm on the floor?"
— Victoria
Victoria Livingstone
Character Information
Victoria was the original pet of The Livingstones before Washington, Sam, Eugenie, and Suzie were adopted.
Biography
Victoria was originally designed to be a skin-colored cat with a fluffy tail (like Fluffy and Nugget) and a blue collar.
Personality
"My sincere apologies but it's a cat thing.""
— Victoria to Washington
Physical Appearance
She has grey fur and white fur for details.
Trivia
Ludo's Description
Original
French

La complice (malgré elle)

Avant que nos héros à poil et à plume ne surgissent dans sa vie, la chatte Victoria était le seul, l'exclusif objet des attentions des Livingstone. L'arrivée de Washington et de ses amis est une entrave à son existence d'animal domestique unique. Et quoi de plus dégoûtant que de devoir partager son territoire avec cette bande de crasseux de la forêt ?! Beurk !! Car Victoria est maligne, elle a immédiatement su qu'elle avait affaire à des imposteurs ! Mais, compétitive, elle a trouvé en Washington un adversaire aussi rusé qu'elle, et elle adore lui causer des ennuis ! Tout en se laissant parfois convaincre de le tirer d'un mauvais pas – en échange d'un service évidemment !

Translated
English

The accomplice (against her will)


Before our furry and feathery heroes and came into her life, Victoria the cat was the sole center of attention of the Livingstones. The arrival of Washington and his friends is a hindrance to the only pet. What is more disgusting than to share her territory with this filthy band of the forest? Yuck! Because Victoria is witty, she immediately knew she was dealing with impostors! However, being competitive, she found an opponent, Washington being as cunning as she, and she loves to put him in trouble! Usually leaving, she sometimes was convinced to pull him out of trouble - in exchange for service, of course!
Gallery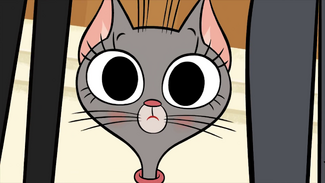 The image gallery for Victoria may be viewed here.
Community content is available under
CC-BY-SA
unless otherwise noted.