Stubs are hideous creatures.
This article is a stub. Please help the Zip Zip Wiki by expanding it.
Thank you!
The Livingstones
Character Information
Gender:
Male ♂
Female ♀
Also known as:
The L's,
Mr./Mrs. L (citation needed)
Species:
Human
Age:
Mr. L: 40
Mrs. L: 39
Friends:
Washington (pet),
Sam (pet),
Eugenie (pet),
Suzie (pet),
Victoria (pet)
Enemies:
Mitch
Relatives:
TBD
Occupation:
Pet Owners
Homeowners
First Appearance:
"Bye-Bye Bathtime"
Voice:
Mr: Matthew Guéczy
Mrs: Sharon Mann (English)
Mr: Nessym Guetat
Mrs: Natacha Muller (French)




Color Scheme
skin
cloth
eye
pants

none
The Livingstones are the original owners of Victoria, and later Washington, Sam, Eugenie, and Suzie. Pilot episode "Bye-Bye Bathtime" revealed that Mr. and Mrs. Livingstone live in a yellow house in the city of San Francisco.
Personality
"Who can resist us? Not the Livingstones, that's for sure."
— Washington on The Livingstones
The Livingstones love pet animals as said by Washington in the opening credits.
Physical Appearance
Relationships
"Fetch, Wash, Fetch!"
— Mr. Livingstone
The Livingstones, most especially Mr. L, treat Washington like the other ordinary pet dogs. They play fetch, do tricks with him.
Whenever Washington did something good as a dog, Mr. L would take a picture of his accomplishment. (Rained In)
Trivia
Mr. Livingstone
Mrs. Livingstone
Gallery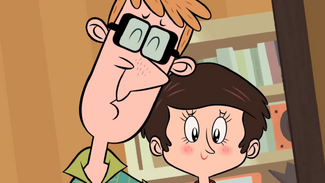 The image gallery for The Livingstones may be viewed here.