Sam the Boar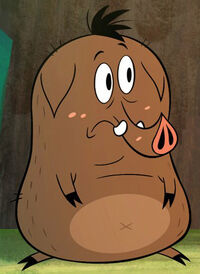 Character Information
"I'm overreacting when I should be over-overreacting!"
— Sam
Sam is one of the main characters of Zip Zip, voiced by Matthew Géczy in the English dub and Benoît Du Pac in French. His closest allies are Washington, Eugenie, and Suzie. His disguise is a cat.
Biography
Personality
"I can't go back to the forest! It's wet! It's cold! There's no TV!"
— Sam to Washington
Of all the things he is afraid of, he is afraid of going back to the forest.
Physical Appearance
Skills
Relationships
Trivia
Ludo's Description
Original
French

Le maillon faible


Voilà un sanglier déguisé… en chat, et c'est un gros balourd ! Meilleur ami de Washington, Sam n'est pas idiot mais très naïf. Atteint de maladresse chronique, il trébuche sur le moindre obstacle, détruit tout ce qui dépasse. Sa grâce féline n'est donc pas franchement convaincante. Craintif et peureux, il s'inquiète beaucoup. Alors que Washington l'hédoniste est en perpétuelle quête de plaisir, Sam accepte de participer à cette mascarade pour une question de survie (et aussi par solidarité envers son ami).

Translated
English

The Weakest Link


That disguised boar and he's very clumsy! Washington's best friend, Sam is not stupid but very naive. With chronic clumsiness, he stumbles on a small problem then destroys everything after. His feline grace is, therefore, not really convincing. Timid and fearful, he is very concerned. While Washington is in perpetual hedonistic pursuit for pleasure, Sam agrees to participate in this charade for survival (and also in solidarity with his friend ).
Gallery
The image gallery for Sam may be viewed here.
Memorable Quotes