Stubs are hideous creatures.
This article is a stub. Please help the Zip Zip Wiki by expanding it.
Thank you!
Mitch
Character Information
"I can see you, Washington. I can see all of you and you're all coming back to the wild with me, where you belong."
— Mitch
Mitch is a minor character from Zip Zip. Washington, Sam, Eugenie and Suzie's old neighbor from the forest, Mitch is an adversary to the characters in Meet Mitch, his debut episode.
Biography
Aside from being Washington's neighbor in the woods, nothing else is known about Mitch before the gang went to the city.
Personality
Mitch is Washington's neighbor in the forest.Some people may find him very annoying.He often acts like a child and will do anything that will bring his friends back into the wild.
Physical Appearance
Skills
Relationships
Washington was Mitch's neighbor until he moved to the city.
Trivia
"Wait a minute, they like those humans. They weren't kidnapped, they ran away!"
— Mitch
Gallery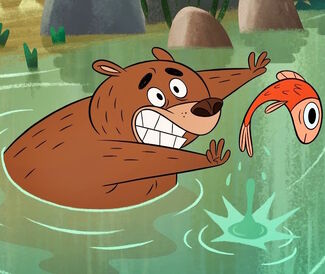 The image gallery for Mitch may be viewed here.