"Bye-Bye Bathtime"
Season 1, Episode 1
Episode Information
Written by:
Ian Carney
Storyboard by:
Lionel Allaix
Directed by:
Aurore Damant
Broadcast Information
Air date:
May 9, 2015 (France)
Videos

ZIPZIP *Short* -01

Episode Guide
Previous
Next
None
A Tail to Tell
"
Sam, I have to stay clean.
"
Bye-Bye Bathtime is the first episode of Season 1. It also the pitched pilot for the series.
Synopsis
The Livingstones decide it's time to give their very dirty dog a B-A-T-H.
Plot
When Washington was told that he would be given a B-A-T-H, he first thought it was a contraption or a high-tech machine for him but when he realized that it was a bath, he panicked. He sought help from Sam because he knew that if he took a bath in the toilet, the Livingstones would discover his identity.
The two went to a car-wash, where Washington was being cleaned in a violent and Sam earning some money helping out with the motorists.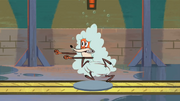 After being clean, Washington decided to go back, unknown of the possible things that could make him dirty. Sam was there to prevent this by catching pails of paint, using his feet as support of Washington's walking on mud and eating a turkey.
Reaching home, Washington saw a cake and was tempted to eat it. Sam tried to stop him but Washington pushed him away, knocking off a can of soda, that would eventually make Washington dirty. The Livingstones saw Washington dirty so Mr. Livingstone tried to take Washington to the bathroom but Washington went there first, removing his costume and covering himself with bubbles. Meanwhile, the dog costume was being washed by Victoria and the others. Happy, Mrs. Livingstone was about to rinse off the bubbles when Victoria disturbed them, and together with Sam, Suzie and Eugenie, gave the dog costume back to Washington. Washington went out of the bathtub and showed the Livingstones that he is clean.
In the end, Washington was shocked to know from Victoria that he would take a bath at least one a week.
Major Characters
Minor Characters
Trivia
Gallery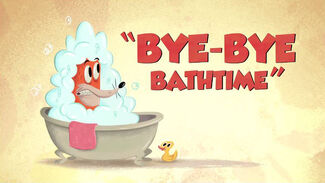 The image gallery for the episode "Bye-Bye Bathtime" may be viewed here.
Community content is available under
CC-BY-SA
unless otherwise noted.