"

Sam

, I have to stay clean!"
Requires Clean-up.
This article needs necessary corrections.
Please improve this article if you can!
"A Tall to Tell"
Season 1, Episode 2
Episode Information
Written by:
Cynthia True
Storyboard by:
Lionel Allaix
Directed by:
Lionel Allaix
Broadcast Information
Air date:
April 5, 2015 (France)
Videos

ZIPZIP - S01EP02 A tail to tell HD Official




ZIPZIP *Short* 02

Episode Guide
Previous
Next
"Bye-Bye Bathtime"
"Washington Gone Wild"
"A Tail to Tell" is the second episode of Season 1.
Synopsis
Washington and Sam are racing when Victoria wakes up from her catnap and starts grooming. She catches Sam's tail under her right front paw. Unfortunately, she does not let go and his tail snaps.
Plot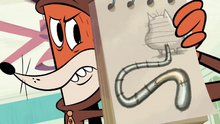 Major Characters
Minor Characters
Trivia
"A Tail to Tell" was one of two full episodes uploaded to the official USA/UK Zip Zip YouTube channel for complimentary viewing. The other episode was "Undercover Bother". As of Fall 2015, these are the only English episodes accessible from either territory as the series is yet to be
This episode shows that Nugget has a crush on Washington
Gallery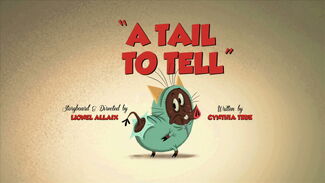 The image gallery for the episode "A Tail to Tell" may be viewed here.
Community content is available under
CC-BY-SA
unless otherwise noted.